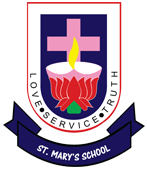 St. Mary's School was established on June 14,2000, by the Catholic Diocese of Kalyan. The School is managed by the St. Mary's Educational Trust. The motto of the School, "Love, Service and Truth" enshrines the principles and the values which the School stands for and intends to promote as part of its mission.
The academic curriculum as well as the myriad activities at school helps the students achieve their personal and social objectives. The School aims to further the objectives of establishing a just and free society. The dignity of the human person is the central message of our mission on the campus. This, we believe, can be achieved through two means, formation and information.
As a co-educational institution, the School promotes a wide range of curricular and co-curricular activities to make learning a complete and fulfilling experience for the students.
A Well trained and experienced teaching staff, well equipped laboratories and well stocked library, and facilities for sports and games, as also the large numver of activities provide the academic and value inputs which children require at various stages of their growth.
Each child gets personalized attention in the learning and growing process. This individual attention ensures that all children make their progress together as a group of happy students.
We encourage excellence, inventive and innovative thinking, and we stand for the highest standards of moral and spiritual values.