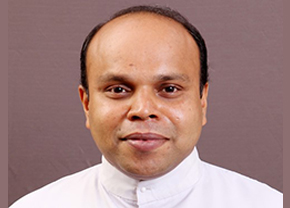 St. Mary's ICSE School was established by the Catholic Diocese of Kalyan on 14th june 2000. This school is managed and run by St. Mary's educational Trust. It was started to uphold the principles that a human person is appositive asset and a precious national resource that need to be cherished, nurtured and developed with tenderness and care, coupled with dynamism, to foster Love, Service and truth.
The school aims at shaping person who are intellectually competence, morally sound, psychologically integrated and imbued with a sense of the Divine, committed to the cause of justice and peace and even open to further growth.
St. Mary's ICSE School aim at creating a human society of justice and peace and free from corruption, prejudice, superstitions, discriminations based on sex, religion,cast, economic status and characterized by respect for dignity of human person by proving best and quality education because the school belive that transformation is possible only with formation and information i.e. education.
The school also aims at achieving the all round development of each and every child, thus the personality of each child is enhanced and values are inculcated through planned activities and strict discipline. Every child is given individual attention, guidance and a sense of friendly environment with the help of technology and innovative learning materials. The school envisages creativity and innovation in the techniques of learning such a as smart class, computer lab, language lab, science lab etc.
As co-educational institution, the school promotes a wide range of curricular and co-curricular activities, making learning a pleasant and promising experience. The school has the rare distinction of providing ultra modern in frastructural facilities, well-qualified and experienced faculty.
St. Mary's ICSE School encourage excellence in academic, promotes inventive thinking and upholds moral and spiritual values.
May God bless all of us.
Fr. Justin Kallely